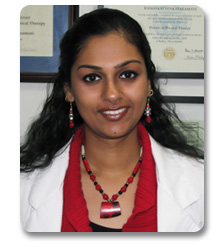 Dr. Rama Venkataramani PT ,DPT, MS (Ortho)
Executive Director, Senior Doctor of Physical Therapy & Chief Fun Officer
Credentials: Dr. Rama has over 15 years of experience of clinical experience and training in California, New York and Connecticut.
Education: Mass General Hospital IHP (affiliated to Harvard Medical School), Quinnipiac University
Research Papers:
Hobbies: Dr. Rama enjoys Music, Fitness, Cooking, Traveling, Swimming, Sports and Energy Healing (Reiki)
What I like MOST about working at Blessed Orthopedic Physical Therapy:
"I believe in one-on-one interaction with my patients and creating pain relief and healthy lifestyles for my patients."
---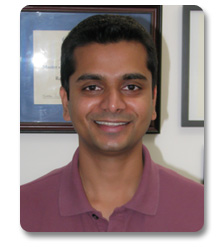 Dr. Rajiv Vijayakumar PT, DPT, MS (Ortho)
Clinical Director, Senior Doctor of Physical Therapy & TechnoGeek
Credentials: Rajiv has over 10 years of clinical experience and training in California, New York, Massachusetts and Connecticut. Rajiv believes in a hands-on, innovative, creative, effective, one-on-one approach to patient care. He is easy to talk to, caring and fun to work with. He believes that healing comes from unlocking the healing potential within.
Education: Doctor of Physical Therapy (DPT) from Massachusetts General Hospital IHP (affiliated to Harvard Medical School), Specialization MSPT (Orthopedics) from Quinnipiac University.
Research Papers:
Hobbies: Dr.Rajiv enjoys Photography, Cinematography, Technology, Music, Fitness and Basketball.
What I like MOST about working at Blessed Orthopedic Physical Therapy:
"I am very passionate about creating healthy lifestyles for my patients and I take the time to educate my patients about their condition and to explain the rationale behind the treatment provided."
---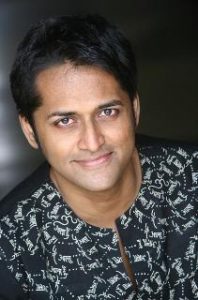 Roger Narayan, BE (with Honors), MS, JD
President, CEO and Taskmaster
Roger has a Bio-Medical Research background and is an Engineer, Entrepreneur, Educator, Philanthropist, and Entertainer. He brings a strong breadth of Management, Technology, Engagement Management, Project Management and Operations experience having worked in both Corporate and Consulting environments to implement projects and manage client relationships with Fortune 100, Fortune 500, Private, Mid-size and Startup clients including Intel, Cisco Systems, Oracle, Electronic Arts, Cambira and Replay TV. Roger has always delivered on-time and within budget to bring strategic value to clients at all levels. Roger has established deep customer relationships with several key accounts in various industries – Hi-Tech, Finance, Supply Chain, Consumer Electronics, Banking, Retail, Bio-tech and Video Gaming. Roger's passion for Customer Service comes from his background in Corporate America as a Project Manager on Technology projects and as a Marketing Executive in Silicon Valley for 8 years where client satisfaction and quality results were paramount.
Roger worked on early Biodegradable Suture concepts, and Materials for Acrylic Dentures and Implants (for Orthodontics and Periodontics). He is also an avid Holistic Health and Wellness Advocate through Organics and practices Advanced Transcendental Meditation (TM) ordained as a Siddha, as taught by Maharshi Mahesh Yogi and advocated by David Lynch, Jerry Seinfeld, Oprah Winfrey, Russell Brand and The Beatles among many other celebrities. He holds a BE (with Honors) in Mechanical Engineering from the prestigious University BITS Pilani (considered the Harvard of India) where he performed his Bio-Medical Materials Science Research, where he was also Voted "Best Young Manager" by the prestigious IIM Bangalore (Wharton of India) Alumni. Roger holds a Masters Degree in Engineering from the University of Maryland at College Park on a Fellowship, and maintained a perfect 4.0/4.0 GPA in a very competitive Graduate Engineering Program. For Research, Roger worked on Projects for the US Army, US Navy, NASA Goddard, and the World's Top Prestigious Alfred E. Gessow Rotorcraft Center. Roger's Masters Thesis work was published as a book used in the Supply Chain Management and Manufacturing verticals in the Microelectronics industry.
Roger has been an Educator for over 15 years. He has extensive experience working with a wide variety of students ranging from exceptionally brilliant to average students to students with special needs, in each case maximizing each child's potential based on their particular strengths. Roger worked as a Special Teacher for to the Maryland TERPS Football, Swimming and Athletic Teams and for remedial Students in at the University of Maryland. He has taught extensively at the High School and College Levels in Math, Physics, Chemistry; for the SAT, GRE, ISEE, PSAT standardized tests and with Study Skills, Test-Taking Skills and Career Direction.
Roger is a regularly invited TEDx & Keynote Speaker, has taught and moderated Master Classes, Self-Development and Acting Workshops at the Prestigious National School of Drama (India), Ravindra Kalakshetra (India), with Foreign Film Delegations at Dr.Nagathihalli's Tent Cinema Acting School, and in Los Angeles, New York and several Universities and International Schools. He has been an MC, Host and Celebrity Guest at a variety of mainstream, diaspora and cultural events in the US.
Roger is an avid Philanthropst and donates his time and Celebrity to support, promote and host events for Children's and Education charities. Roger is on the Board of Directors and the Goodwill Ambassador of Induz (www.Induz.org), a Children's Education Non-Profit, is the GoodWill Amabassador and on the Board of Advisors of SevaChild (www.SevaChild.org), a Non-Profit that provides Nutritional Supplements to underprivileged children in India, Brand Ambassador of LifeLine a rare Blood Group Donor Organization based in India and Goodwill Ambassador of Ashvamrith (www.Ashvamrith.org), a Non-Profit that uses Equine Therapy to treat developmentally disabled kids with Autism, Downs Syndrome and Aspergers develop confidence and social skills.
Roger Narayan is also an Award Winning and Nominated Hollywood and International Actor. Roger works regularly on American TV Shows and Films and in Indian Films (Hindi, Tamil, Kannada, Sanskrit) in a broad range of genre' and portraying Indian and Middle Eastern ethnicities and Voices. He was Nominated for Best Actor at the Filmfare Awards and South India International Movie Awards.
Roger's Feature Film credits include The Man Who Knew Infinity (Netflix) (World Premiere Toronto International Film Festival, Tribeca, IFFI Goa Opening Film, San Francisco Film Festival, Newport Beach Film Festival) in which Roger was also involved in early development, Clay (Cannes Film Festival), Happy Feet 2, The Test, Points of Origin, Flawless, Quest of Alchemy, Caught on Tape (with rapper Sticky Fingaz), A-List, and Touchwood. Roger has also voiced for Eat Pray Love, Mission Impossible 4: Ghost Protocol. Roger worked in HBO's The Leftovers opposite Carrie Coon (Gone Girl) and was seen as a Top of Show Guest Star on NCIS: Los Angeles opposite Chris O'Donnell and LLCoolJ. He was seen in Guest Starring roles on Weeds (SHOWTIME) opposite Kevin Nealon and the Lead Cast, and in Castle (ABC) opposite Stana Katic (James Bond: Quantum of Solace). He has worked opposite Betty White (7 time Emmy Winner, 4 time Golden Globe nominee) in The Bold and the Beautiful (CBS) and opposite Neil Patrick Harris in How I Met your Mother (CBS). He was in Recurring roles on the new Nickelodeon show Victorious and The Young & the Restless (CBS). His Jerry Bruckheimer Pilot Miami Trauma (CBS) directed by Kenneth Fink (CSI) was picked up and aired as Miami Medical (CBS). His extensive Credits include House MD (FOX), Better off Ted (ABC), Outsourced (NBC), the Jay Leno Show (NBC), American Bodyshop (Comedy Central), iCarly (Nickelodeon), Mystery ER (Discovery) and he has worked on several Pilots with Emmy Winning Producers of Amazing Race and Comedy Central. Web Series Credits include Kevin Sullitt (with Phil LaMarr and Jordan Black) and Keeping up with the Guptas.
Roger played the Male Lead in the Blockbuster Film U-Turn (Netflix) that had its World Premiere at the New York Indian Film Festival and earned Roger Filmfare Awards and South India Industry Movie Awards Nominations. His Film Humble Politician (Amazon Prime) was a Superhit as well. Roger's role in Humble Politician was both popularly and critically acclaimed. Roger has completed several Feature Film Lead Roles slated for release in 2019 and 2020, and is attached to several other Feature Film Projects. His Lead Antagonist Role in Chambal, directed by 2 time National Award winning Director Jacob Verghese received Critical and popular acclaim. Roger's Hindi-English-Spanish Feature Film Hola Venky!, garnered a cult fan base and had a fabulously successful 6-week Theatrical Run in the US and over a 100 Screenings in numerous cities in India, the US and Singapore. Roger represented India as a Cultural Ambassador at Asian Trend in China where he was Nominated as Emerging Top Star of Asia. He has also served as an informal Cultural Ambassador to the Australian Film Delegation hosted by the Government of Karnataka and the Consul General of Australia.
The History of Hindu India a Documentary Series that Roger Narrated and Produced has had over 5 Million hits on YouTube and is being used in Schools in California, Singapore, Indonesia and Worldwide. Guru Chronicles an Audiobook that Roger narrated has been received internationally with great acclaim.
Roger has been the face of several International and National Commercial Campaigns for McDonalds, Dell, HP Dreamworks, Microsoft, Blue Cross, DirecTV, Amway, Las Vegas, Cisco, Polycom, Comcast, Discovery Travel and Jack in the Box and was a face of the Microsoft Cloud Technology Campaign in India and is now an International Face of the SAP International Campaign. He is also a face of the new Dell International Campaign that he shot with Steven Spielberg's DP Janusz Kaminski. He has performed several Voices for Video Games like Uncharted: The Lost Legacy (Sony Nintendo), Age of Empires III (X Box) and the 24 Game (Pressman Toys). He has performed regularly for KSCO Radio in Santa Cruz, and Improv'ed all over Los Angeles with the group Consenting Adults. He won a title Mr.India California, was invited to fly to India where he was a Regional Finalist in the Bollywood Starsearch Grasim Mr.India. Roger has modeled for top International Designers including Reebok, Steve Madden, Paul Mitchell, Avirex, at San Francisco Fashion Week and for Bollywood Designers Satya Paul and Rohit Bal.
Roger received his Classical Acting Training from the reputed American Conservatory Theater (A.C.T), the American Film Institute (AFI) SAG Conservatory, The Groundlings, Footsbarn Theater Company (France), Upright Citizens Brigade (UCB), San Jose Repertory Theater and Ranga Shankara (India). Roger is an avid Aircraft Pilot and enjoys flying Single Engine aircraft, his favorite being the Cessna 172. He is also an avid Motorbiker and loves riding Suzuki GSX-R's, Royal Enfields and Harleys. Roger is trained as a Martial Artist in Tae Kwon Do and Muay Thai with Grand Master Ernie Reyes Sr. (of Red Sonja, Surf Ninjas fame).
Roger works in Los Angeles in the US and Bombay, Chennai and Bangalore in India. He is fluent in Hindi, Urdu, Tamil, Kannada and Sanskrit and does killer Middle Eastern, British and Indian accents.
IMDB: www.imdb.me/RogerNarayan
Website: www.Roger-Narayan.com
---
Great Photo being Uploaded 🙂
Dr.Ashley, D.Acu
Doctor of Acupuncture & Doctor of Traditional Chinese Medicine (TCM)
---
Great Photo being Uploaded 🙂
Isaac
Pilates Instructor
---
Great Photo being Uploaded 🙂
Sharri
Pilates Instructor, Dietician, Pilot (what!)
---
Great Photo being Uploaded 🙂
Liberty
Yoga Instructor
---
Great Photo being Uploaded 🙂
Genevieve, MA
Front Desk Manager & Poet
---
Great Photo being Uploaded 🙂
Keila
Office Manager & Very Detail Oriented Person
---
Great Photo being Uploaded 🙂
Jia
Customer Service
---
Great Photo being Uploaded 🙂
Dean, MT
Massage Therapist (Trigger Point Release)
---
Great Photo being Uploaded 🙂
James, MT
Massage Therapist (Cranio Sacral)
---
Great Photo being Uploaded 🙂
Abby, MT
Massage Therapist
---
Great Photo being Uploaded 🙂
Maggie, MT
Massage Therapist