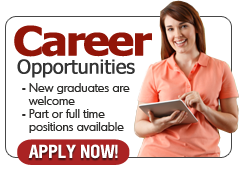 We are expanding and growing and have the following Open Positions. When Applying, send us your Resume and 3 Professional References to BlessedPTRecruiting@gmail.com.
Due to the high volume of Clinic Traffic, please do not call the office 🙂 If your profile is a match, our Recruiting Team will call you to move things forward. Thanks and Happy Career moves!
OPEN POSITIONS
DOCTOR OF PHYSICAL THERAPY
MASSAGE THERAPIST
DOCTOR OF PHYSICAL THERAPY
BLESSED ORTHOPEDIC PHYSICAL THERAPY is a Boutique, Holistic Physical Therapy Clinic. We pride ourselves in hiring only the Best Staff. We get patients better faster, help them reach their rehab goals faster and are dedicated to excellence. We are looking for a Licensed Physical Therapist who enjoys the Outpatient setting. Our beautiful clinic houses Private Treatment rooms, the ML830 Cold Laser, BioQPulse, Allegro Pilates Reformers, Yoga and Reflexology. We emphasize personalized, 1-on-1 hands-on treatment and foster a very family-oriented environment for our patients.
WHAT YOU GET:


* A growing Company!
* Great People and a Family-Oriented, Team Environment with wonderful staff!!
* Flexible work hours, Part-Time or Full-Time
* Starting PAY based on experience
* We have a very special team that cares for one another
* Patient Volume is very comfortable and you will enjoy providing 1-on-1 treatment and assisted by PT Aides
* Work with other Physical Therapists and be treated as a Professional
* Work with a motivated, energetic and committed team!

REQUIREMENTS:
* Must be PROFESSIONAL, ENTHUSIASTIC, DEDICATED and FUN to work with
* New Grads welcome
* 1-2 years Previous experience as a Licensed Physical Therapist PREFERRED
* Manual Therapy Techniques Knowledge is a BIG PLUS (McKenzie, Maitland, Mulligan, Sahrmann, Rocobado etc)
* Enjoy Physical Therapy cases of all ages
* Great communicator and Strong team player
* Have a great attitude and be willing to learn
* You'll be working directly with patients of all ages so you must be confident with great people skills.

TO APPLY:
Please e-mail the following:
* Resume
* 3 Professional References (Past Employers, Supervisors, Patients)
* Cover Letter explaining why you think you will be a great fit for us!
* Any Hours you are NOT Available
* Salary History
* California PT License #
(Principals only. No Recruiters please)
CERTIFIED MASSAGE THERAPIST
* Great Advancement Opportunity!
* Great People and Work Environment!
* Our fast-paced Physical Therapy Office is looking for a Licensed Massage Therapist
* Physical Therapy Aide responsibilities
* Working knowledge and experience with different types of Massage – Soft Tissue Release/Massage, Swedish, Deep Tissue, Shiatsu is a BIG PLUS
* For PT Aide work, you'll be working under a Physical Therapist and helping with patients. Much hands-on training comes with the position, however, some experience is preferred. If you don't have specific physical therapy experience, then a certified massage therapy, personal training or fitness background is a plus. Basic knowledge of anatomy and exercises is a MUST
* THIS JOB IS NOT FOR EVERYONE but the right person will LOVE it!
* Our staff are all professionals but also fun-loving.
* We have a very special team that cares for one another
* ONLY VERY SERIOUS and VERY CONFIDENT people should apply.You'll be working directly with patients of all ages so you must be confident with great people skills. The job hours are flexible and a full-time position is available if you are a solid performer. There is a lot of room for growth so you must be EXTREMELY motivated! Part-time or full-time available.
**IMPORTANT** If this sounds like you, then email BLESSEDPTRECRUITING@GMAIL.COM the following information: 1) NAME  2) CITY/STATE WHERE YOU LIVE  3) WHY YOU WANT THIS POSITION  4) WHY WE SHOULD HIRE YOU  5) PERSONAL INTERESTS  6) ANY DAYS/TIMES YOU ARE UNAVAILABLE FOR YOUR WORK SCHEDULE  7) CELL PHONE #  8) RESUME WITH 3 REFERENCES AND CONTACT INFO
Thank You for your interest. Good Luck!
Location: CULVER CITY, CA
Compensation: Based on Experience
Principals only. No Recruiters please